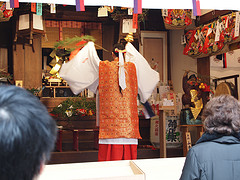 On January 10, I am said to be "a festival of Ebisu" every year and, in Japan, stay in Yoi-Ebisu (宵戎), the next day in Hon-Ebisu (本戎), the day before on this day and do 3rd under the pretense of fortune with the day of the festival.
The festival of this festival of Ebisu known as a festival to pray for business prosperity at the beginning of a year shows the turnout like New Year holidays.
Ebisu is God whom what he does holds a fishing rod and a sea bream in both hands in one person in "the Seven Deities of Good Luck" and smiles at. That god comes over from the far-off sea, and makes people happy and is got close by a nick name of Ebe-ssan(えべっさん) as god of the fishery, business prosperity, and wealth.
Ebisu in itself is famous nationwide. Old acquaintance is thin in Kanto (around Tokyo) area, and the festival of Ebisu is like the event of the West Japan. It is said that over 1 million people attend this festival of Ebisu of Imamiya Shrine of most famous Osaka in three days like Yoi-Ebisu(宵戎), Ebisu(戎), Nokori-Ebisu (残り戎).
The shrine sells "the bamboo grass" which displayed a mascot in the branch point and, at this festival, do well
Because the bamboo grass was evergreen, and vitality was strong, it has been used for Shinto ritual well for a long time.
Even if business symbolizes a developing figure, the figure of the bamboo which the bamboo grass having Ebisu grant it expresses a lasting fishing rod of Ebisu or lengthens straight touches "the good omen" of the mascot to a reason, the bamboo grass and is given divine favor of the business prosperity.
So that, for 2,013 years, fortune visits all of you this year.