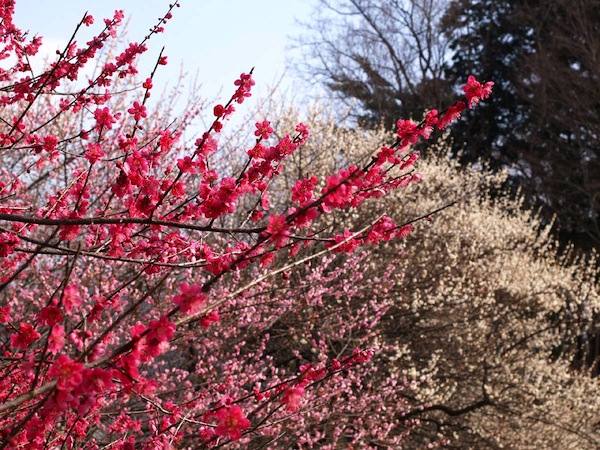 During spring time, it is very common for Japanese people to look for Cherry blossoms or Sakura in the local dialect. While the Cherry tree's popularity remains, there is also a certain level of enjoyment coming from Plum blossoms, Japanese Apricot or Ume. More often than not, these two can create some confusion.
Plum is a kind of flower that originated in the mainland China. For every bud, you can only see a single plum blossom and comes in small purple leaves. This flower also gives a very fragrant scent and its distinct feature is the absence of a small split at the end of each petal. Moreover, the flowers are connected directly to the branch.
On the other hand, a Cherry blossom petal has a small split at the end. On every bud, it can give several flowers, while its leaves are unfolding and come in a bright green color. Flowers are also attached to a long stem that is connected to the branch.
In Arayama Park, you will see a wide area covered with Plum blossoms. The area is around 27, 300 square meters and offers around 50 kinds of this flower. If you want to see it in full bloom, make sure to visit in the middle of February until the first week of March.
While Japan is popular for its Cherry blossoms, Plum blossoms are known to have a long breath that is full of emotions. Whether you choose Plum or Cherry blossoms, you will definitely enjoy the beauty of spring time.