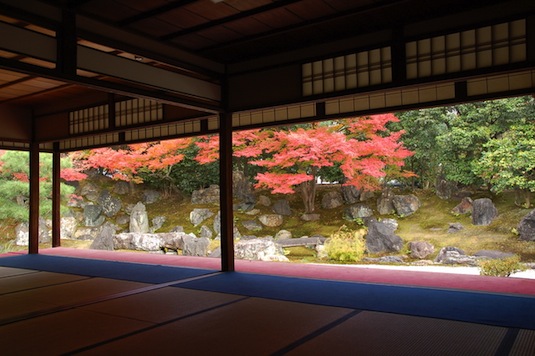 For most Japanese, watching autumn leaves is a real beauty to see. Regardless if you are a local or a foreigner, this is a yearly event that you shouldn't miss. People are so fortunate that several places have such beautiful scenery to behold. Some areas may be perfect for Summer, Spring or Winter, but Autumn definitely has something to offer, too.
Kyoto maybe considered as one of the best places to see Autumn. As the temperature drops starting September, leaves from gingkgo and maple trees also change in color. The beauty of autumn leaves can be enjoyed as early as September, but it's ultimate beauty can be seen in November that usually starts from the North. Some of the famous spots to look out for include Arashiyama's Togetsukyo Bridge, Tenryuji's pond garden, Walking trail at Tenryuji, Jojakkoji Temple and a lot more.
Just like countryside, big cities like Tokyo is also a sight to see. At the heart of this city, people can see a homestead garden built during the Edo Era. It is perfectly designed having around 400 maple trees with colorful illumination and this what gives life during Autumn. Aside from sight-seeing, there are also other activities that can be done and one is having gastro feast. In around 15 minutes by train, you can reach Shinjuku where sophisticated restaurants offer sumptuous meals while overlooking a picturesque view.
If you want to go North, Sapporo should be your next destination. With its annual Oktoberfest, beer lovers can enjoy a vast selection of German beers in addition to Hokkaido's own and original beers. While you enjoy as many as 37 kinds of wines and beers, you may also indulge yourself in a wide range of ramen. Moreover, meat lovers can also find beef steak, lamb-chop and some sea food like crabs on the menu. While everyone is happy and full, live music keeps them company. The whole place is filled with jazz music, samba dance, taiko drums and hip hop moves.
As people prepare for winter, Autumn maybe the last chance to enjoy the good temperature and nice view. It's one thing that you shouldn't miss whether you are living or just visiting the "Land of the Rising Sun."