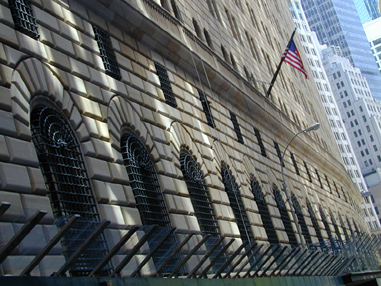 At July 15 2017 Federal reserve bank hold FOMC (Federal Open Market Committee), and declined to raise interest rates this month.
"The committee expects to begin implementing its balance sheet normalization program relatively soon," said the Fed statement.
Key language points to that unwinding beginning in September.
Other month The Fed chair Janet Yellen said said the banking system is "very much stronger" due to Fed supervision and higher capital levels. Also she predicted that because of the measures the Fed has taken, another financial crisis is unlikely "in our lifetime."
The Federal Reserve laid the groundwork Wednesday to begin winding down shortly the massive stimulus program it embarked on to rescue the economy from the financial crisis. As expected, the Fed also unanimously declined to raise interest rates this month.
After its two-day policy meeting, the Federal Open Market Committee released a statement containing key language that points to starting the move in September. At that time, the central bank will begin rolling off the $4.5 trillion portfolio of bonds it has accrued on its balance sheet mostly in the years following the crisis and the Great Recession it generated.
Implementing its balance sheet normalization program will provide that the economy evolves broadly as anticipated," the post-meeting statement said.
The "relatively soon" phrase is the crux of the announcement. Fed watchers had been looking for the language to change from "this year," as indicated following the June meeting, to something more immediate.
The chair Yellen and others have indicated that the balance sheet runoff should not be disruptive to markets, though some fear that it could push up rates if demand for the bonds isn't strong.
According to market professional, "It's going to be difficult to not disrupt the markets somewhat as they start to unwind the balance sheet,however, to their credit they did support the markets for the last nine years. They've done a good job of being transparent. That transparency will help smooth the way as much as possible."