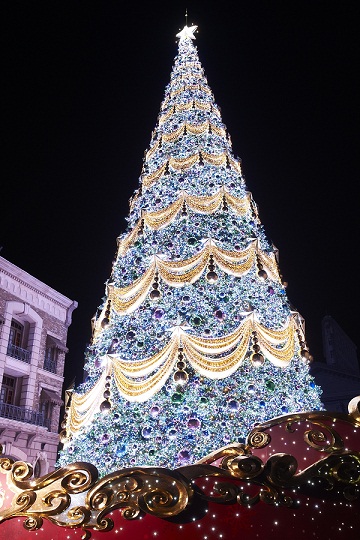 328,049 number of the illuminations of the LED light in the artificial expression Christmas tree which it was called "the Christmas tree which emitted the world's best light", and reproduced a fir tree or a pine!
It updated a record of the last year more, and it was authorized this year by Guinness world record.
The Christmas tree exists to thrust the sky in the first depths of the main street which lengthens straight from the entrance of the park.
It is success in setting up six colors (red, blue, green, pink, white, electric bulb color) of LED around the tree which person puts refined decoration for with drape of the gold and pink, blue, the ornament ball of colorful big things and small things including the green by not only the surface of the tree but also branches and leaves and the stem, and making full use of the writing program of approximately 20 patterns, and creating original brightness.
The LED does not remain for the spread in the field of illumination, and the reclamation to the many new application fields is pushed forward now.
There is the company to challenge the world of space development and the nanotech, and application, commodification are pushed forward in various form, and it is bright, and the LED technology lights up the future of we Japan!