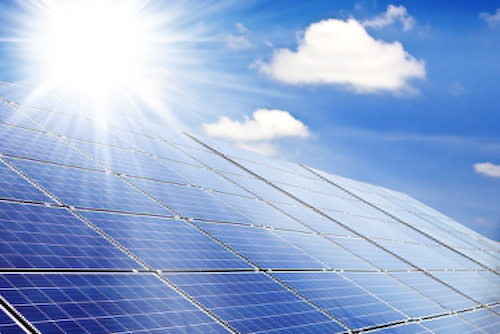 A feed-in tariff (FIT) is a policy mechanism designed to accelerate investment in renewable energy technologies.
It achieves this by offering long-term contracts to renewable energy producers, typically based on the cost of generation of each technology.
Rather than pay an equal amount for energy, however generated, technologies such as wind power, for instance, are awarded a lower per-kWh price, while technologies such as Solar PV is offered higher price
In addition, feed-in tariffs often include "tariff degression", a mechanism according to which the price (or tariff) ratchets down over time. This is done in order to track and encourage technological cost reductions.

The goal of feed-in tariffs is to offer cost-based compensation to renewable energy producers, providing price certainty and long-term contracts that help finance renewable energy investments.
In the case of Japan, Net metering method is adopted. Power plan t company ,such as TEPCO, buy a surplus part of generated electric. If surplus part selling price is higher than the provided electric price from power plan, it is encouraged to energy saving in a house.
About FiT rate in Japan, an FiT of ¥42 (US$0.525) per kWh for 10 years for systems less than 10 kW, and ¥40 (US$0.50) for larger systems, but for 20 years, began on 1 July 2012. The rate was to be reviewed annually, for subsequently connected systems.
To secure the second round price of 37.8 yen/kWh for a 20-year PPA term, foreign investors must complete the following actions by 31 March 2014:
1. (1) acquire firm rights to a project site (by either purchasing land, entering into a lease or obtaining a firm written commitment from a landowner to make a project site available);
2. (2) submit an application for consultation and grid connection to the electricity utility that will purchase power from the relevant renewable energy project (i.e. the utility that operates in the geographical area in which the project is based); and
3. (3) obtain approval for their generation facility from the Ministry of Economy, Trade and Industry ("METI") under Article 6 of the Renewable Energy Law.
Projects that complete the above steps by 31 March 2014 will be eligible to enter into a 20-year PPA with the relevant electricity utility at a price of 37.8 yen/kWh for 20 years.
As above condition, an offering of below cases are increased in these days. Such as;
・Incorporate Japanese subsidiary as an operative corporation for solar business.
・Registration of changes, such as when a foreign company acquires Japanese solar business company.
・Set up Japanese branch.
・Registration of transfer of ownership of a land for solar business.
Other than above, we have plenty experiences about various law procedures.
For details, feel free contact us.