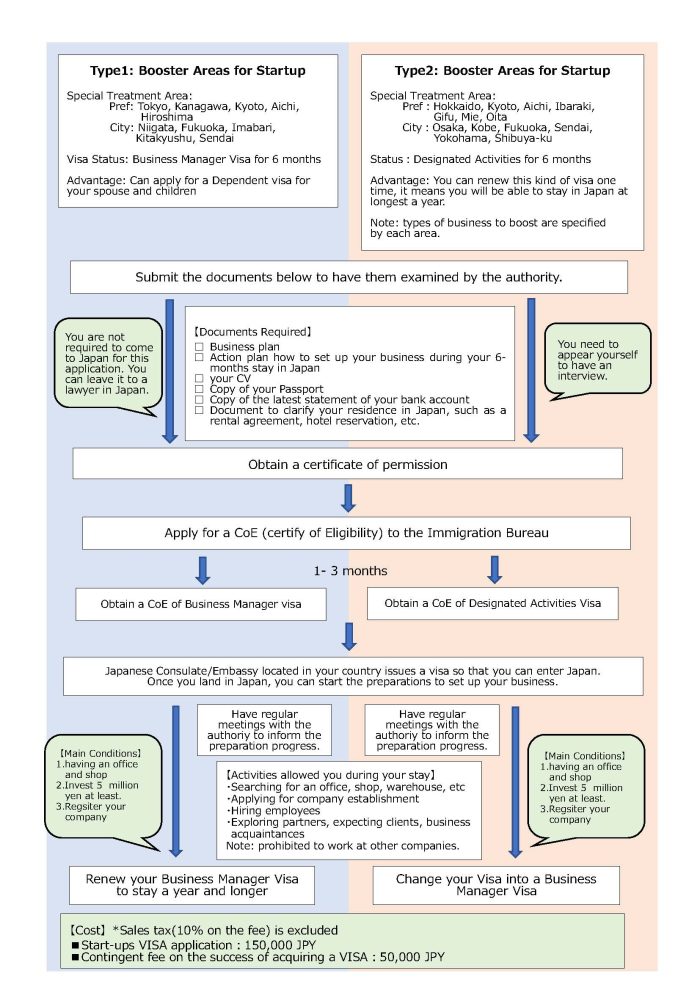 There are two kinds of startup visas for starting a business in Japan.
( Type A )
■ Special Treatment Area: Pref: Tokyo, Kanagawa, Kyoto, Aichi, Hiroshima
             City: Niigata, Fukuoka, Imabaki, Kitakyushu, Sendai
■ Visa Status: Business Manager Visa for 6 months
■ Advantage: Can apply for a Dependent visa for your spouse and children
( Type B )
■ Special Treatment Area: Pref: Hokkaido, Kyoto, Aichi, Ibaraki, Gifu, Mie, Oita
            City: Osaka, Kobe, Fukuoka, Sendai, Yokohama, Shibuya-ku
■ Visa Status: Designated Activities for 6 months
■ Advantage: You can renew this kind of visa one time, it means you will be able to stay in Japan at longest a year.
Please refer to the attached flow charts.
Both types allow you to prepare your business by staying in Japan.
When applying for these visas, you don't need to meet the main requirements, such as company establishment, capital of 5 million yen or more, and securing an independent office for a business manager visa. You are supposed to meet the requirements by the expiration of the start-up visas.
To start your business quickly and smoothly within a certain period, you might have a professional partner well versed in business.
We can provide all kinds of support for foreign investors.
Please contact us if you are interested in doing business in Japan.